Coronavirus COVID-19 David Icke interview 3 on LondonReal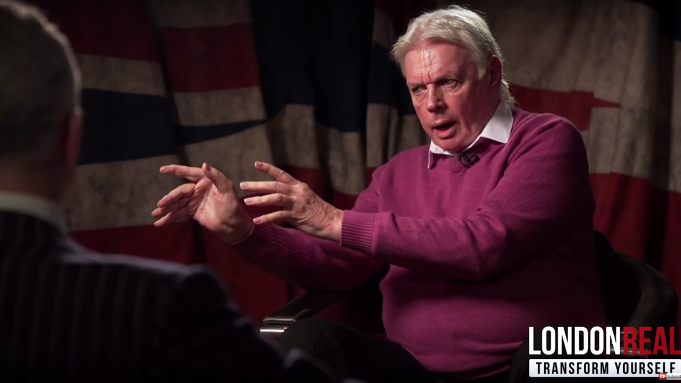 Coronavirus COVID-19 David Icke interview 3 on LondonReal
Coronavirus COVID-19 David Icke interview 3 on LondonReal
Here's a video of an interview of David Icke on LondonReal by Brain Rose. This is interview 3, ROSE/ICKE III: THE LIVESTREAM.
The above video is interview 3.
To watch interview 2, please go to Coronavirus COVID-19 David Icke interview 2 on LondonReal to view the video.
I need to make several comments which will help you if you're thinking to view this video.
Brian Rose has been one of the best sources of info for many years on many topics. He has interviewed many of the top authorities in their fields on many topics. He brings into public awareness the topics and the people that are instrumental to our lives.
On 18 Mar 2020, Rose/Icke 1, interview 1 on youtube. over 10 million views. On 6 Apr, interview 2 live on youtube. second biggest livestream in the world that day, 65 thousand concurrent viewers, four times interview 1, expected to reach 40 million views, which would have made it the largest video podcast in human history. 30 minutes later, interview 2 was deleted and banned by youtube with no sensible explanation. The following day, youtube deleted ten more videos. Instagram, Facebook and Dropbox deleted and banned more videos. LondonReal was deplatformed from Vimeo and LinkedIn.
LondonReal has now created a Digital Freedom Platform as a strategy to bypass youtube censorship. This is the primary source for this interview 3 from 3 May.
With that in mind, I don't know how long this video will continue to be viewable here on the blog. With some searching, it is possible to find and view the video on DailyMotion. The ads are frequent. Personally, I find the ads to be annoying. Here, the video plays without ads, as far as I can tell from my experimenting with it here.
Please let me know if you have problems playing the video. It wouldn't hurt to leave comments or to let me know if the video plays well, too.
From my experimenting, I've found that it is possible to jump forward or back in the video, but it is difficult. I have needed to click in about the place where I'd expect and try again a few times with small movements of the mouse up and down.
After all those comments about how to watch, I'll talk briefly about the contents of the video. I think that I'll just call it powerful and eye-opening, and leave it at that.
I tried to embed the video here on Steemit, but it is not allowed by the Steemit editor. Please go to Coronavirus COVID-19 David Icke interview 3 on LondonReal to view the video.
Thanks For Reading!
If you have any topics that you would like me to cover, feel free to comment them below and I'll add them all to my list!
We are the Love of God, no matter what.