Enlightenment Intensive Background
How Enlightenment Intensives were developed
Enlightenment Intensives were developed by an American therapist and spiritual teacher named Charles Berner (1929-2007), also known as Yogeshwar Muni.
In the 1960s, Berner had been developing processes for personal growth. But he noticed that some people tended not to make much progress because they were so identified with their false images or egos or personalities, unaware of their true inner being.
So he wondered how he could help people to discover who they really are — how to experience self-realization.
He found that traditional techniques for experiencing self-realization, such as Zen meditation, were too slow and too involved for the average busy Westerner seeking personal growth.
The inspiration for Enlightenment Intensives suddenly came to Berner one afternoon in 1968. He combined
the format of an intensive Zen retreat,
the Yoga technique of contemplating 'Who am I?', and
the modern therapeutic technique of sharing one's experiences with others in one-to-one communication.
He held the first, experimental Enlightenment Intensive in the Californian desert soon afterwards. It was incredibly successful. He then went on to conduct dozens of Intensives over the next few years, gradually refining the format, the rules, the technique and so on.
Berner's 99th and final Enlightenment Intensive was held in Berkeley in 1975. After that, he trained others to lead Enlightenment Intensives in the same manner.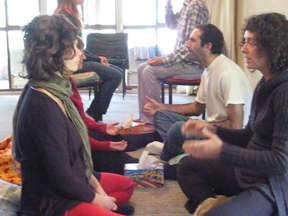 What you can expect
Being on an Enlightenment Intensive can be personally challenging at different levels and the decision to take one should not be made lightly. The following information tells you what to expect and gives a flavour of the inner process that people typically go through. It answers various basic questions, such as How does the process work? and Where are they held?
Who will you be when you unlock your potential?