Coronavirus COVID-19 Medical Experts Trustworthiness
Coronavirus Perspectives on COVID-19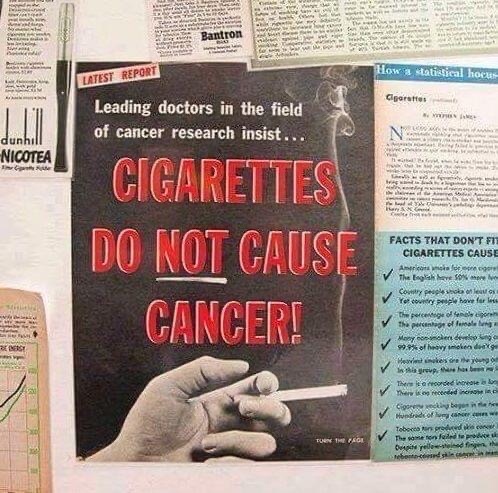 Coronavirus COVID-19 Medical Experts Trustworthiness
Coronavirus COVID-19 Medical Experts Trustworthiness
How much can we trust the so-called medical experts?
Here's one perspective coming from about 50 years ago. Please note the image above.
There was a time when more and more data was coming out about the connection between cigarette smoking and lung cancer and eventually chronic lung disease and heart disease. At that time, a lot of money was coming to medicine journals [from tobacco companies], particularly the Journal of the American Medical Association (JAMA). In 1949, the AMA received 33 times more income from JAMA's advertising than from membership dues.
JAMA's editor-in-chief (from 1924 to 1949) Morris Fishbein made a slow transformation from tobacco critic to consultant over 25 years. In the late '20s and early '30s, Fishbein authored books and editorials criticizing cigarette industry advertising and the medical industry's advertising practices more broadly. Fishbein developed a relationship with Philip Morris, however, that tempered his skepticism in the years to come. He later started to help Philip Morris create ads, and he even authored an editorial defending their use of diethylene glycol after 75 people died from poisoning in 1937. Fishbein ruled the Journal of the American Medical Association (JAMA) with an iron fist throughout the '40s. He squashed dissent against its advertising practices, and he even ignored calls from the board of directors to rein it in. JAMA finally ceased publishing tobacco ads in 1954. The same year, Fishbein was given a job with Lorillard Tobacco Company, making the equivalent of about $240,000 a year in 2020 currency. As late as 1969, Fishbein denied the link of cigarette smoking to cancer.
Is there something that we can learn from our past and recent history? How can we relate the expert advice from the past to the expert advice in the present? How well have the medical experts and others providing advice or policy proven themselves to be worthy of our trust in the present in regards to COVID-19 or in regards to other topics?
Thanks For Reading!
If you have any topics that you would like me to cover, feel free to comment them below and I'll add them all to my list!
We are the Love of God, no matter what.