Coronavirus COVID-19 Censorship by Youtube and Others, part 3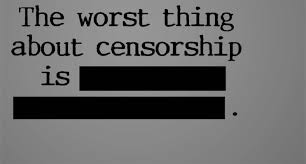 Coronavirus COVID-19 Censorship by Youtube and Others, part 3
Coronavirus COVID-19 Censorship by Youtube and Others, part 3
This is part 3 of 3. If you have not yet read part 1, you can at Coronavirus COVID-19 Censorship by YouTube and Others, part 1. If you have not yet read part 2, you can at Coronavirus COVID-19 Censorship by Youtube and Others, Part 2.
I've heard rumors about YouTube taking more drastic censorship action against other influencers for years and a massive acceleration in the past months, especially related to COVID-19. And, it's not just YouTube. I've heard rumors about many social media platforms accelerating their censorship. I've also heard rumors that some powerful entities have requested many social media platforms to increase their censorship.
Here's something bizarre. Even DTube! The primary advantage that DTube offers to users is a refuge from censorship. I was surprised to see the comment posted on my video. You can see the comment below the video if you view it on DTube. The comment appeared within one second after I posted the video. The comment says "Hi! Did you know that steemit.com is now censoring users and posts based on their opinions?…Here's a list of some banned users…Will you be censored next?" Steemit and DTube are sister platforms.
Let's consider this comment. Why did it happen? I uploaded the video with the same title that I used in YouTube "Coronavirus espanol vit C". Clearly, there was not enough time to view the video. So, I conclude that the bot must have posted this automated comment based on the title without viewing the video. The bot has its own channel, so people go to that channel, view and downvote any posts which get reprimanded by the bot.
To contrast, a different video I uploaded the same day got no comments. It got some upvotes and even earned some STEEM funds. After the bot comment on my "Coronavirus espanol vit C" video, this video got some downvotes.
I find it hard to imagine that even DTube is engaging in censorship.
YouTube and others have had charges brought against them for violating the first amendment. These corporations were required to testify before the US Congress. They testified, claiming as their defense, that they are not subject to the first amendment nor the US Constitution because they are private companies. The US Congress came to a decision that this defense is not valid because these corporations were funded by US taxpayer dollars from their respective inceptions. Consequently, these corporations are required to adhere to the first amendment and the entire US Constitution. So, because censorship is unconstitutional, these corporations are not allowed to censor, according to the US Congress. I agree. How about you?
I'd like to hear your thoughts. What's going on? What's happening to our civil liberties? Is the individual freedom of citizens in this and other countries being eroded more quickly now? To what extent do we have freedom of speech. Are we losing it? Are we being forced to live in an echo chamber? How close are we to stories from George Orwell?
Thanks For Reading!
If you have any topics that you would like me to cover, feel free to comment them below and I'll add them all to my list!
We are the Love of God, no matter what.