VISIONARY VIDEOS: Beyond Major Media
Wednesday's Video Night – 6 Sep 2017 – 6:30pm
244 Villa Allegre, Building 144
Note: Be happy.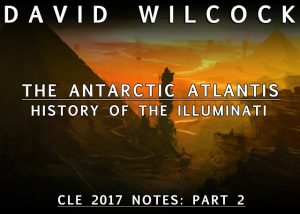 Video Presentation – "The Antarctic Atlantis with David Wilcock and Corey Goode"
This is the very recent 2 hour plus lecture and slide show presentation by David Wilcock with the secret space program whistleblower Corey Goode at the 2017 Los Angeles Conscious life expo. This is a follow up presentation to David's 2016 Expo lecture on the history of extraterrestrial giants in the solar system and on Earth that we recently showed. Not only does David continue the theme of ET giants from his 2016 lecture, but he also addresses the recent archaeological findings in Antarctica that prompted many world leaders including Obama, Trump, John Kerry, the pope and astronaut Buzz Aldrin to recently visit Antarctica. Included in the discussion are findings of ancient ruins, advanced technology, ancient giant Mummies as well as giant ETs that are living there currently. This is a very interesting and informative presentation.
Watch:
(Click here to view an index of the archives of previous
Blog
posts for Visionary Videos presentations.)
Where:
We will be meeting at 244 Villa Allegre which is an apartment community at the corner of W. Alameda and St. Francis which is across St. Francis from Burger King. Coming from Cerrilos Blvd. on St. Francis, turn right on W. Alameda. Turn left into the driveway and go right, then turn left and then veer left and find Building 144 on the right. It is a community room.
Ask friends to join you every 1st and 3rd Wednesday evening of each month. All that is required is an open mind to ideas "beyond major media." Documentaries shown at Visionary Videos expand our knowledge of unknown realities. These astounding ideas often reveal hidden truths that inspire change.
We are the Ones we are waiting for…
We are the Love of God, no matter what.