VISIONARY VIDEOS: Beyond Major Media
Wednesday's Video Night – 16 Aug 2017 – 6:30pm
244 Villa Allegre, Building 144
Note:
16 Aug freebies
Helen Oates is moving & giving away some of her books & VV's DVDs on Aug. 16 @ 6:00 prior to the showing at 6:30.
This is a great opportunity to bring a friend as your guest who might want to see what VVs is abo​​ut, get some free DVDs &/or book for their and your private collection. And, your guest might want to add their name to LeRoy's announcement list.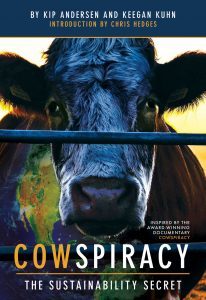 Video Presentation – "Cowspiracy: The Sustainability Secret"
This is a recent 90 minute film documentary by filmmakers Kip Anderson and Keegan Kuhn that explorers the effects of the massive Fresh water usage and carbon footprint of the Livestock industry throughout the entire world. The consumption of meat, fish, eggs and dairy products not only remains high in the so-called civilized world, but is also rapidly increasing and places like China, Africa and South America. It is an almost unknown fact that the carbon footprint of these industries is 3-4 times that of the entire petroleum industry, Most of the massive destruction of the Amazon rainforest is for land for Livestock production. By far the Major cause of desert areas created throughout the world is from this livestock production. The film also reveals the environmental movements almost total reluctance to even recognize this world wide problem let alone addressing any of its aspects.
Watch:
(Click here to view an index of the archives of previous
Blog
posts for Visionary Videos presentations.)
Where:
We will be meeting at 244 Villa Allegre which is an apartment community at the corner of W. Alameda and St. Francis which is across St. Francis from Burger King. Coming from Cerrilos Blvd. on St. Francis, turn right on W. Alameda. Turn left into the driveway and go right, then turn left and then veer left and find Building 144 on the right. It is a community room.
Ask friends to join you every 1st and 3rd Wednesday evening of each month. All that is required is an open mind to ideas "beyond major media." Documentaries shown at Visionary Videos expand our knowledge of unknown realities. These astounding ideas often reveal hidden truths that inspire change.
We are the Ones we are waiting for…
We are the Love of God, no matter what.