VISIONARY VIDEOS: Beyond Major Media
Wednesday's Video Night – 3 Jan 2018 – 6:30pm
244 Villa Allegre, Building 144
Note: Be happy.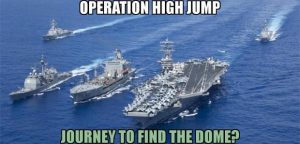 Operation HighJump: Journey to Antarctica to Find the Edge
This is an almost 2-hour recent documentary film about admiral Richard Byrd & Operation high jump as well as a thorough history of the exploration and development of the antarctica region. This video provides excellent details about this subject as well as a number of related topics, and a television interview of admiral Byrd from the 1950s is shown. An extensive presentation about an electromagnetic plasma energy dome high above the Earth, it's discovery and implications including a look at Nicola Tesla's work on this subject is included. This video's presenters also provide information and speculation to support Flat Earth Theory. Information about the Earth Schumann Resonance frequency,the Illuminati's attempt to to prevent the raising of humans vibrational frequency and high level Freemasons role in this entire subject are also included.
Watch:
(Click here to view an index of the archives of previous
Blog
posts for Visionary Videos presentations.)
Where:
We will be meeting at 244 Villa Allegre which is an apartment community at the corner of W. Alameda and St. Francis which is across St. Francis from Burger King. Coming from Cerrilos Blvd. on St. Francis, turn right on W. Alameda. Turn left into the driveway and go right, then turn left and then veer left and find Building 144 on the right. It is a community room.
Ask friends to join you every 1st and 3rd Wednesday evening of each month. All that is required is an open mind to ideas "beyond major media." Documentaries shown at Visionary Videos expand our knowledge of unknown realities. These astounding ideas often reveal hidden truths that inspire change.
We are the Ones we are waiting for…
We are the Love of God, no matter what.