VISIONARY VIDEOS: Beyond Major Media
Wednesday's Video Night – 17 Jan 2018 – 6:30pm
244 Villa Allegre, Building 144
Note: Be happy.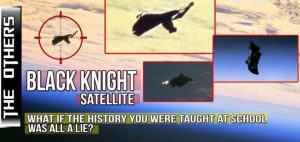 A History of the Black Knight Satellite
This is an approximately 2 hour compilation of recent video clips concerning the history and possible mission of the purportedly 13000 year old alien space satellite that has been sighted since the 1950s. People starting with Nicola Tesla in 1899 seem to have been picking up signals from it on many occasions. Pepsi corporation even released a documentary about it entitled "Black Knight decoded." Named for a failed British rocket and satellite program, the most prevalent theory about this satellite is that it is a 13000 year old Anunnaki satellite that is still operating and can maneuver and change course at anytime. Presented here is also a video trying to debunk it as well as one clip claiming it has been shut down and another saying that it recently activated a stargate over Hawaii.
Watch:
(Click here to view an index of the archives of previous
Blog
posts for Visionary Videos presentations.)
Where:
We will be meeting at 244 Villa Allegre which is an apartment community at the corner of W. Alameda and St. Francis which is across St. Francis from Burger King. Coming from Cerrilos Blvd. on St. Francis, turn right on W. Alameda. Turn left into the driveway and go right, then turn left and then veer left and find Building 144 on the right. It is a community room.
Ask friends to join you every 1st and 3rd Wednesday evening of each month. All that is required is an open mind to ideas "beyond major media." Documentaries shown at Visionary Videos expand our knowledge of unknown realities. These astounding ideas often reveal hidden truths that inspire change.
We are the Ones we are waiting for…
We are the Love of God, no matter what.