Eat Dirt with Dr. Josh Axe – Wed 16 Oct 2019 – 7pm
VISIONARY VIDEOS: Beyond Major Media
Wednesday's Video Night – 16 Oct 2019 – 7pm
1501 Montano St.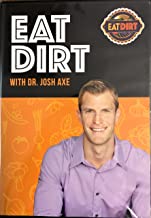 Video Presentation – "Eat Dirt with Dr. Josh Axe"
This is a 2016 80-minute lecture-style documentary with a nice graphics overlay of the extensive material Dr. Josh Axe presents in this video. Dr. Axe is an alternative doctor and author of the popular book by the same name "Eat Dirt". In the first two-thirds of the film he covers the topic of "leaky gut syndrome". He looks at pro-biotics and healthy pro-biotics, especially those microbes from the soil (dirt). He identifies the five most common gut types, helps you decide which one you are, and then addresses how to deal with each type. In the final one-third of the video, he covers Organic Therapeutic Essential Oils, explaining what they are and how they are derived. He gives an extensive list of the best ones and how they can be utilized to obtain optimum health.
Watch:
(Click here to view an index of the archives of previous
Blog
posts for Visionary Videos presentations.)
Where:
Visionary Video Group has moved to a new venue until further notice.
1501 Montano St. (Encino Villa Senior Housing) in the Community Room in the Office building. This part of Montano St. is located between Avenida Cristobal Colon/Potencia St. and Palomino St.
From Agua Fria turn onto Avenida Cristobal Colon or Palomino.
From Cerrillos Blvd. turn onto Baca St., then turn left on Potencia,
and jog left onto Montano St.
Same days – 1st and 3rd Wednesdays.
New Times 7 to 10 PM.
Ask friends to join you every 1st and 3rd Wednesday evening of each month. All that is required is an open mind to ideas "beyond major media." Documentaries shown at Visionary Videos expand our knowledge of unknown realities. These astounding ideas often reveal hidden truths that inspire change.
Thanks For Reading!
If you have any topics that you would like me to cover, feel free to comment them below and I'll add them all to my list!
We are the Ones we are waiting for. – Author unknown
We are the Love of God, no matter what.