Death By Medicine – Wed 7 Mar 2018 – 6:30pm
VISIONARY VIDEOS: Beyond Major Media
Wednesday's Video Night – 7 Mar 2018 – 6:30pm
244 Villa Allegre, Building 144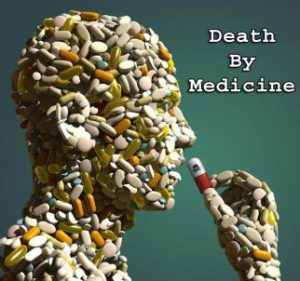 Video Presentation – "Death By Medicine"
This is a nearly 100 minute documentary film from 2017 by medical research, Gary Null, that delves into the problems that Western allopathic medicine creates, which currently makes it the leading cause of death in the United States today. He reveals the history of western medicine and the AMA or American medical association and its role in creating this problem. Even the very biased AMA acknowledges that western medicine is the third leading cause of death although independent research sources now rate it number one. This video illustrates the harmful results of our society's current dependency on medical drugs, and the other practices of allopathic medicine.
Watch:
(Click here to view an index of the archives of previous
Blog
posts for Visionary Videos presentations.)
Where:
We will be meeting at 244 Villa Allegre which is an apartment community at the corner of W. Alameda and St. Francis which is across St. Francis from Burger King. Coming from Cerrilos Blvd. on St. Francis, turn right on W. Alameda. Turn left into the driveway and go right, then turn left and then veer left and find Building 144 on the right. It is a community room.
Ask friends to join you every 1st and 3rd Wednesday evening of each month. All that is required is an open mind to ideas "beyond major media." Documentaries shown at Visionary Videos expand our knowledge of unknown realities. These astounding ideas often reveal hidden truths that inspire change.
We are the Ones we are waiting for…
We are the Love of God, no matter what.