Jesus in India – Wed 21 Nov 2018 – 7pm
VISIONARY VIDEOS: Beyond Major Media
Wednesday's Video Night – 21 Nov 2018 – 7pm
1501 Montano St.
Note: I'll be traveling for the next couple months. The presentations will happen on the 1st and 3rd Wednesdays, whether or not I post about them.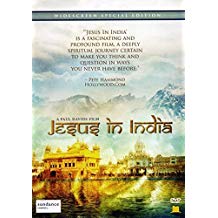 Video Presentation – "Jesus in India"
This is a 97-minute 2008 documentary film by filmmaker Paul Davids concerning where Jesus was from the age of 12 to the age of 30 and just what was he doing during this time. The film follows author and researcher Edward T. Martin on a more than 4000-mile journey throughout India to uncover evidence that Jesus, or Issa as he was called in India, traveled extensively around India during this period of his life studying many aspects of both Buddhism and Hinduism which he apparently later incorporated into his own teachings. There are apparently at least 21 documents in India relating to Jesus' time there. The most extensive one is titled "The Life of Saint Issa: The Best of The Sons of Men" which is located at the Buddhist Hemis Monastery in northern India which was first seen by Russian traveler and author Nicolas Natovitch in 1887. It was eventually seen by at least 6 others over the next 100 years. In 1894 Natovitch published his book "The Unknown Life of Jesus Christ". This Documentary was filmed over a three-year period and also deals with the possible gravesites of Jesus in northern India and Mother Mary in Pakistan.
Watch:
(Click here to view an index of the archives of previous
Blog
posts for Visionary Videos presentations.)
Where:
Visionary Video Group has moved to a new venue until further notice.
1501 Montano St. (Encino Villa Senior Housing) in the Community Room in the Office building. This part of Montano St. is located between Avenida Cristobal Colon/Potencia St. and Palomino St.
From Agua Fria turn onto Avenida Cristobal Colon or Palomino.
From Cerrillos Blvd. turn onto Baca St., then turn left on Potencia,
and jog left onto Montano St.
Same days – 1st and 3rd Wednesdays.
New Times 7 to 10 PM.
Ask friends to join you every 1st and 3rd Wednesday evening of each month. All that is required is an open mind to ideas "beyond major media." Documentaries shown at Visionary Videos expand our knowledge of unknown realities. These astounding ideas often reveal hidden truths that inspire change.
We are the Ones we are waiting for…
We are the Love of God, no matter what.