Coronavirus COVID-19 Interview of Michael Osterholm by Joe Rogan
Coronavirus Perspectives on COVID-19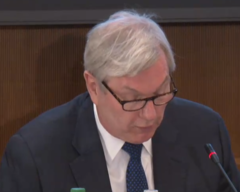 Coronavirus COVID-19 Interview of Michael Osterholm by Joe Rogan
Coronavirus COVID-19 Interview of Michael Osterholm by Joe Rogan
Here's a link to an interview which has a lot of good information about COVID-19. Joe Rogan interviews Michael Osterholm, a medical policy advisor. The video is about an hour and a half.
Dr. Michael T. Osterholm is an infectious disease epidemiologist, regents professor, and director of the Center for Infectious Disease Research and Policy at the University of Minnesota.
I watched this first a couple weeks ago. The info is still timely.
I suggest the entire video, but there's some really relevant stuff about precautions in minute 8 and also in minute 44.
Dr. Osterholm talks about risk factors about minute 5, such as cigarette smoking and obesity and other underlying health problems.
Also around minute 5, Dr. Osterholm explains the incubation period for COVID-19 as being four days.
Michael Osterholm explains repeatedly that there is a lot of misinformation and that the decisions which have been made about how to handle various situations are making things worse. For example, closing schools or keeping people on cruise ships may produce adverse effects, either directly or indirectly. On the topic of closing schools, there are clear advantages and disadvantages which should be carefully weighed.
Dr. Osterholm talked about the book which he wrote on the topic of pandemics.