Epigenetics and the Honeymoon Effect with Dr. Bruce Lipton – Wed 21 Feb 2018 – 6:30pm
VISIONARY VIDEOS: Beyond Major Media
Wednesday's Video Night – 21 Feb 2018 – 6:30pm
244 Villa Allegre, Building 144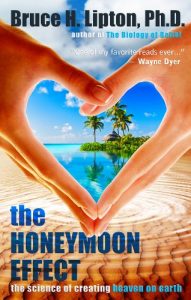 Video Presentation – "Epigenetics and the Honeymoon Effect with Dr. Bruce Lipton"
This is a 2 hour plus compilation of 3 recent videos by Renowned researcher, Dr. Bruce Lipton covering his most recent findings in his field of research known as epigenetics which means above the genes. His latest book "The honeymoon effect" covers the concept of experiencing a time of extreme happiness, such as a falling and being in intense love. This represents a time of good health, lots of energy and feelings of intense bliss. Dr. Lipton examines how the programmed beliefs from our first 7 years of childhood interfere with us retaining the state of being over an extended continuous period of time. He explains the ways we can achieve this state of being including methods known as super learning. He also reexamines his findings that we are not victims of our gene makeup as it is merely a blueprint that is continuously modified by our interaction with our environment.
Watch:
(Click here to view an index of the archives of previous
Blog
posts for Visionary Videos presentations.)
Where:
We will be meeting at 244 Villa Allegre which is an apartment community at the corner of W. Alameda and St. Francis which is across St. Francis from Burger King. Coming from Cerrilos Blvd. on St. Francis, turn right on W. Alameda. Turn left into the driveway and go right, then turn left and then veer left and find Building 144 on the right. It is a community room.
Ask friends to join you every 1st and 3rd Wednesday evening of each month. All that is required is an open mind to ideas "beyond major media." Documentaries shown at Visionary Videos expand our knowledge of unknown realities. These astounding ideas often reveal hidden truths that inspire change.
We are the Ones we are waiting for…
We are the Love of God, no matter what.