VISIONARY VIDEOS: Beyond Major Media
Wednesday's Video Night – 21 Dec 2016 – 6:30pm
244 Villa Allegre, Building 144
Note: Be happy.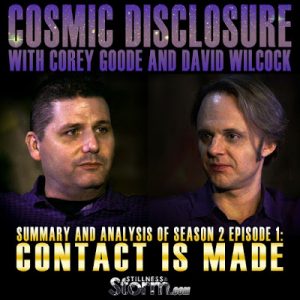 Video Presentation – "Corey Goode explains the secret space program and human-alien contact for the past 125 years"
This is a 1 hour 45 minute presentation by secret space program whistle blower and David Wilcock contact Corey Goode at the recent August 2016 Mount Shasta Summer conference. With the use of many slides including artist renderings of numerous aliens and off world places, Corey gives an historical account from the late 19th century to date concerning our contact with Alien beings and our subsequent extensive involvement in projects of a both Inter-planetary and Inter-stellar Nature. This covers secret society contacts with Aliens, the Nazi-reptilian Alliance in Antarctica resulting in the dark fleet in outer space and the recent Sphere Being Alliance, which uses blue spheres ranging in the size from that of a basketball to larger than planets to combat the Illuminati and its numerous negative Alien alliances. He also gives details about the first secret space program Solar Warden as well as the more recent ICC or Interplanetary Corporate Conglomerate, which currently trades with more than 900 off world civilizations. This is some pretty wild stuff.
Watch:
(Click here to view an index of the archives of previous
Blog
posts for Visionary Videos presentations.)
Where:
We will be meeting at 244 Villa Allegre which is an apartment community at the corner of W. Alameda and St. Francis which is across St. Francis from Burger King. Coming from Cerrilos Blvd. on St. Francis, turn right on W. Alameda. Turn left into the driveway and go right, then turn left and then veer left and find Building 144 on the right. It is a community room.
Ask friends to join you every 1st and 3rd Wednesday evening of each month. All that is required is an open mind to ideas "beyond major media." Documentaries shown at Visionary Videos expand our knowledge of unknown realities. These astounding ideas often reveal hidden truths that inspire change.
We are the Ones we are waiting for…
We are the Love of God, no matter what.