Dyad Communication Practice at LeRoy's – Sat 10 Feb 2018 – 10:00am
Dyad communication practice to be offered as an opportunity to get a taste of the Enlightenment Intensive experience at a convenient location and with a time commitment of only a couple hours.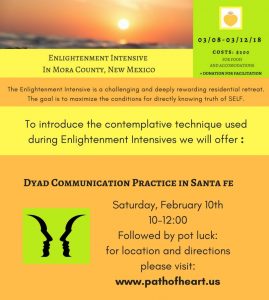 Dyad Communication Practice
Note: arrival time 9:45-10:00am. Please arrive on time.
Enlightenment Intensive information resource links:
Please comment and ask questions about Enlightenment Intensives and Dyad Communication Practice.
We are the Love of God, no matter what.