Edward Bennett III In Memoriam
One year ago today, Edward Bennett III died. Officially, Edder (his friends called him Edder) died two days later, on 3 March. Nonetheless, I think of 1 March as the day he died. He died peacefully in his home. His most loyal caregiver (aka PA, Personal Assistant) was at his side. The PA got a hospice social worker to come visit as Edder's vitals were becoming precarious. When Edder's pulse stopped, they called 911, then called me. The ambulance got Edder's heart beating again with great difficulty. Edder was taken to the hospital ICU, but he was already brain dead. Edder was kept on life support until we pulled the plug on him two days later.
Edward Bennett III In Memoriam
I've been pre-occupied recently, busy with my own life. I was just reminded today that today is the one year anniversary of that fateful day. The reminder is hitting me hard. I'm feeling a wave of sadness and grief. I'm feeling that it is a way to honor Edder to write a little about him and my relationship with him.
Edder was my boss. It didn't take long though, for Edder to become my friend, too. He and I shared mutual respect for the other. He spoke very highly of me to many people. I heard reports from so many people that he had a sparkle in his eye when he talked about me. He bragged about me to others. He told many about some of my great accomplishments, including a couple things that I had asked him to keep private. He told people about the three times that I had directly saved his life. In my mind, what was more important was that I did so much to make his life worth living. I was able to do so much for him because he put me in a position to do so.
Edder became quadriplegic in a diving accident just before the start of his sophomore year at Yale University in 1979.
Edder was the first quadriplegic to graduate from Yale College and the first quadriplegic at Yale Law School. He was the first quadriplegic to become the president of a bank, the First National Bank of Santa Fe.
Edder was an articulate advocate for the rights of the disabled. Many of his articles were published in prestigious journals.
Edder restarted the Yale University magazine which had gone defunct, recruited students to become volunteer staff, and led the journal to win awards and become one of the top University journals in USA. One of the staff was Andy Court, now an Executive Producer at 60 Minutes. Andy said, "There are a lot of great writers and journalists who have Ed Bennett to thank for their training, and they don't know it."
Edder was a kind and caring soul.
Edder had been flat on his back for five years when I met him in early 2013. He had not been outside of his bedroom. He hired me as a PA. At first, it was a job. But, it quickly became a friendship. Over time, Edder became a large part of my life. Edder and I had our disagreements, conflicts and various difficulties. I often felt like I was fighting against him. Our relationship was complex. Something that started as a loyalty to a job helping a (mostly) wonderful person became, to a large extent, a loyalty to Edder.
In 2013, the PA staff led by Edder got him a hospital bed, so he started getting his head elevated after years flat on his back. In 2014, we got him out of the house. I made arrangements. I trimmed the branches of a pine tree which had overgrown to a point where it blocked the wheelchair ramp leaving his house. When we took him down the ramp the first time in six years, he asked us to pause. He commented that he had planted that tree and had not seen it since it was only a few feet tall.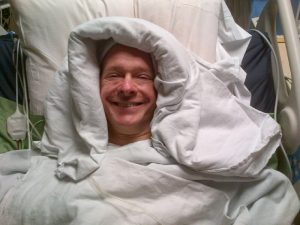 In 2015, the PA staff accompanied Edder twice to the Mayo Clinic in Phoenix, AZ. Edder was getting his life back. This entire adventure was fraught with problems. Indeed, it was so difficult that every person on the PA staff was one step away from quitting. Edder could be very difficult to deal with, especially when he was in a lot of pain and experiencing seemingly impossible situations. I'll mention here that the PA staff was phenomenally devoted, loyal, talented and loving.
In the end of 2015, I was transitioning from PA work to being only a computer consultant for Edder. In early 2016, Edder's health deteriorated, and some staff left, so I got pulled back in temporarily for PA work. Then, Edder's Executive Assistant quit. I got sucked into filling that role on a temporary basis. I agreed to work 20 hours per week and to oversee hiring a replacement for myself.
Edder's health deteriorated,and my role expanded to managing emergencies and handling everything in Edder's life while he was incapacitated. During his seven extended hospital stays in the last year of his life, I visited him in the hospital every day, delivering paperwork and supplies, and arranging interviews in addition to running the household the rest of the day. I scarcely took any days off during that year. I was often in a role to speak on Edder's behalf. Edder was immensely grateful to me that I stepped up as needed. That meant that I made myself available 24 hours per day, and that I was contacted for every conceivable problem. Indeed, I once got a phone call in the middle of the night because the batteries of his electric toothbrush were getting low!
Edder was happy to have me in the role of managing his household, his medical welfare and his staff during the last year of his life because he trusted me more than anyone else. It was quite a burden on me, though. For a few months, I worked an average of 75 hours per week. I eventually got an Executive Assistant hired to help me with the burden. That came as a great relief to me, even though it birthed new complications.
Edder contributed a tremendous amount to my life. I learned a lot from him. He was a great source of wisdom for me. I admired him in some ways. Edder contributed more to my finances than anyone else in my life so far. Edder also contributed more by far to my stress than anyone else in my life.
Edder was a great man. I often described him as kind and generous. Many people have told me how strongly they were inspired by Edder. He is missed by many.
Who will you be when you unlock your potential?
We are the Love of God, no matter what.