Global Transition to Cryptocurrencies update – 5 Apr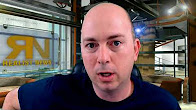 Global Transition to Cryptocurrencies update – 5 Apr
Cryptocurrencies are replacing fiat currencies. The global transition to cryptocurrencies from fiat currencies as the primary means of financial exchange will progress over the next few years. I don't know exactly how many years will pass as this transition progresses. I'm guessing between two and ten years.
Please watch this video. Duration: 1:41:23
In this video, Joe Cosmides interviews Bitcoin Ben. The video is long. After a while, it gets into very interesting info. Here's a quote from Bitcon Ben:
The cryptos are the funnel being used to transfer the purchasing power of the inflated USD that the global economy holds so that it doesn't destroy the US economy with hyperinflation. This will continue as labor is replaced by tech. U must see the transition to understand cryptos
We are the Love of God, no matter what.