The Blue Butterfly – Wed 2 Oct 2019 – 7pm
VISIONARY VIDEOS: Beyond Major Media
Wednesday's Video Night – 2 Oct 2019 – 7pm
1501 Montano St.
Note1:
Note about accessing info for presentations
: The best place to find info about presentations is
http://www.leroydiener.com/blog/
. This link includes an index of the archive of previous presentations. The archive is being added to as my time permits. So far, it extends back to Oct 2014. It is best to consider emails to be only reminders and for convenience. You can rely on these email announcements to be timely and accurate most of the time, but
not always
. The best source for info is on the blog, which can always be accessed from the link above. The blog versions will be more complete, formatted better, and updated. images will be easier to see in the blog version because of better quality and resolution than in an email. If there are any changes after the email announcements are sent because of weather or for any other reason, the blog posts will get updated. Extra emails will not be sent to everyone. This should reduce excessive emails in your inbox, while allowing access for those who are interested to updated info. As an added note, the email process is not entirely reliable. Timely delivery of emails can be thwarted by problems with technical issues, or with my time availability, traveling, getting injured or internet access. As an alternative to the above link, you can also find all previous
Visionary Videos presentations
in a different format.
Note2: I'll be traveling for the next couple months. The presentations will happen on the 1st and 3rd Wednesdays, whether or not I post about them.
Note3: During the times in the past month or so when I've needed to send email announcements for presentations, I've been in locations with spotty internet connections. The bandwidth was (and is where I am currently) so restrictive that I have been unable to send group emails with photos. This is a circumstance which highlights the virtue of note 1 above about accessing info for presentations. Indeed, I've been lucky to get group emails sent out on time at all, hence note2 above.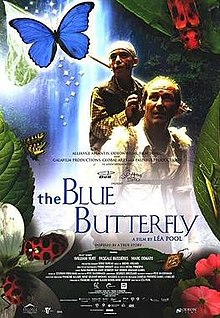 Video Presentation – "The Blue Butterfly"
This is a 2004 97-minute theatrical movie from Canada by Lea Pool. It is based on the real life story from 1987 of a wheelchair bound 10-year old boy from Montreal with terminal cancer who is given only months to live. His only remaining wish is to go to the Amazon rainforest and capture a Blue Morpho Butterfly that is considered magical by the Amazon natives. He and his single mother are taken by an explorer who is an entomologist (insect scientist) on a journey into the Amazon. This is a beautifully filmed movie of the rainforest with stunning close-ups of the insects and other animals and plants of the Amazon rainforest.
Watch:
(Click here to view an index of the archives of previous
Blog
posts for Visionary Videos presentations.)
Where:
Visionary Video Group has moved to a new venue until further notice.
1501 Montano St. (Encino Villa Senior Housing) in the Community Room in the Office building. This part of Montano St. is located between Avenida Cristobal Colon/Potencia St. and Palomino St.
From Agua Fria turn onto Avenida Cristobal Colon or Palomino.
From Cerrillos Blvd. turn onto Baca St., then turn left on Potencia,
and jog left onto Montano St.
Same days – 1st and 3rd Wednesdays.
New Times 7 to 10 PM.
Ask friends to join you every 1st and 3rd Wednesday evening of each month. All that is required is an open mind to ideas "beyond major media." Documentaries shown at Visionary Videos expand our knowledge of unknown realities. These astounding ideas often reveal hidden truths that inspire change.
Thanks For Reading!
If you have any topics that you would like me to cover, feel free to comment them below and I'll add them all to my list!
We are the Ones we are waiting for. – Author unknown
We are the Love of God, no matter what.