Suppression: Infinite Energy – But Not for The Masses – Wed 21 Aug 2019 – 7pm
VISIONARY VIDEOS: Beyond Major Media
Wednesday's Video Night – 21 Aug 2019 – 7pm
1501 Montano St.
Note: I'll be traveling for the next couple months. The presentations will happen on the 1st and 3rd Wednesdays, whether or not I post about them.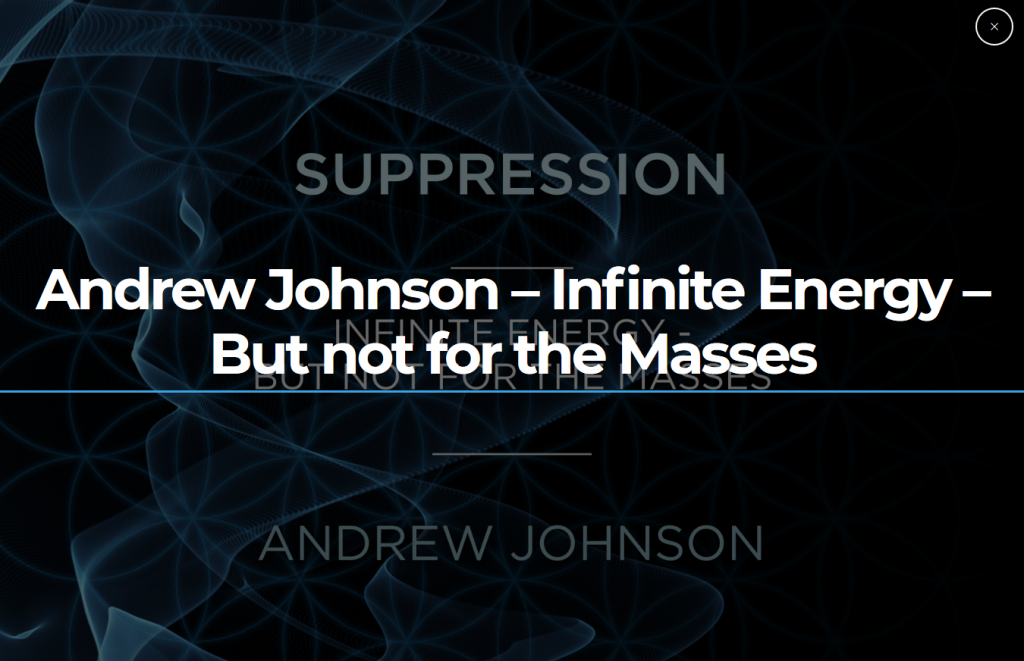 Video Presentation – Suppression: Infinite Energy – But Not for The Masses"
This is a 2012 129-minute lecture and slide show with numerous video clips by physicist and researcher Andrew Johnson at the Breakthrough Energy Movement Conference in Holland. He covers the energy pioneers Nikola Tesla, Michael Faraday, and Wilhelm Reich. He also discusses and includes video clips of numerous free energy inventers including John Hutchison, Bruce de Palma, Adam Trombly, John Bedini, and Stan Meyer. He also talks about the cold fusion experiments of Pons and Fleischman and others, and the massive cover-up attempt by the mainstream powers including Dr. Steven Jones. Another area he covers in detail is the massive suppression of free energy patents over many decades, and the murders of people involved in the free energy movement. His talk is a very good overview of the entire subject.
Watch:
(Click here to view an index of the archives of previous
Blog
posts for Visionary Videos presentations.)
Where:
Visionary Video Group has moved to a new venue until further notice.
1501 Montano St. (Encino Villa Senior Housing) in the Community Room in the Office building. This part of Montano St. is located between Avenida Cristobal Colon/Potencia St. and Palomino St.
From Agua Fria turn onto Avenida Cristobal Colon or Palomino.
From Cerrillos Blvd. turn onto Baca St., then turn left on Potencia,
and jog left onto Montano St.
Same days – 1st and 3rd Wednesdays.
New Times 7 to 10 PM.
Ask friends to join you every 1st and 3rd Wednesday evening of each month. All that is required is an open mind to ideas "beyond major media." Documentaries shown at Visionary Videos expand our knowledge of unknown realities. These astounding ideas often reveal hidden truths that inspire change.
Thanks For Reading!
If you have any topics that you would like me to cover, feel free to comment them below and I'll add them all to my list!
We are the Ones we are waiting for. – Author unknown
We are the Love of God, no matter what.