VISIONARY VIDEOS: Beyond Major Media
Wednesday's Video Night – 18 Jan 2017 – 6:30pm
244 Villa Allegre, Building 144
Note: Be happy.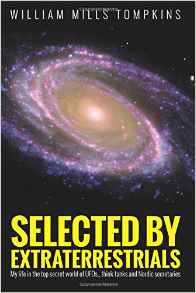 Video Presentation – "William Tompkins: selected by Extraterrestrials"
This is approximately two hours of a 2 hour 50 minute December 2016 Project Camelot interview of 93 year old US insider Bill Tompkins by Carrie Lynn Cassidy and aerospace historian Michael Schratt. This one-Month-old interview presents information that supplements and, at times, parallels the Corey Goode secret space program material that we showed on December 21st. During world war II, Bill was a U.S. Naval intelligence officer who helped infiltrate the joint Nazi-alien Draco reptilian UFO project and revealed the results of this operation to the U.S. Military as well as to four of the elite private US corporations that as a result of this later became involved in military black projects. Tompkins discusses at length the negative reptilian operations against the human race throughout history as well as the counter-actions by the positive Alien Nordic races including their extensive influence on Tompkins and others around him. Living in Long Beach, California in early 1942, Bill was an eye-witness to the infamous 1942 battle of Los Angeles between numerous UFOs and the U.S. Military. He gives his account of what happened as well as the US military's response to this incident.
Watch:
(Click here to view an index of the archives of previous
Blog
posts for Visionary Videos presentations.)
Where:
We will be meeting at 244 Villa Allegre which is an apartment community at the corner of W. Alameda and St. Francis which is across St. Francis from Burger King. Coming from Cerrilos Blvd. on St. Francis, turn right on W. Alameda. Turn left into the driveway and go right, then turn left and then veer left and find Building 144 on the right. It is a community room.
Ask friends to join you every 1st and 3rd Wednesday evening of each month. All that is required is an open mind to ideas "beyond major media." Documentaries shown at Visionary Videos expand our knowledge of unknown realities. These astounding ideas often reveal hidden truths that inspire change.
We are the Ones we are waiting for…
We are the Love of God, no matter what.