An Interview with Airl, The Roswell Extraterrestrial – Wed 20 Feb 2019 – 7pm
VISIONARY VIDEOS: Beyond Major Media
Wednesday's Video Night – 20 Feb 2019 – 7pm
1501 Montano St.
Note: I'll be traveling for the next couple months. The presentations will happen on the 1st and 3rd Wednesdays, whether or not I post about them.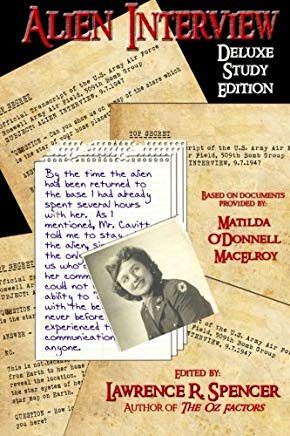 Video Presentation – "An Interview with Airl, The Roswell Extraterrestrial"
This is 2 hours plus of a 4 ½ hour interview first published in 2018 about a purported survivor of the 1947 Roswell crash known as Airl. Matilda O'Donnell MacElroy, a 23 year old Army nurse of the 509th Bomb Group at Roswell was apparently able to telepathically communicate for over six weeks with this alien, right after the crash. Years later the, then retired, nurse wrote an extensive letter to Lawrence R. Spancer detailing her communication with the alien Airl. This video is a reading of that long letter. Airl claims to be a member of a large alien group referred to as "The Domain", which has struggled with an older negative group known as "The Old Empire". Airl extensively relates both ancient and recent histories of Earth and Humans as well as our interaction with these two alien groups.
Watch:
(Click here to view an index of the archives of previous
Blog
posts for Visionary Videos presentations.)
Where:
Visionary Video Group has moved to a new venue until further notice.
1501 Montano St. (Encino Villa Senior Housing) in the Community Room in the Office building. This part of Montano St. is located between Avenida Cristobal Colon/Potencia St. and Palomino St.
From Agua Fria turn onto Avenida Cristobal Colon or Palomino.
From Cerrillos Blvd. turn onto Baca St., then turn left on Potencia,
and jog left onto Montano St.
Same days – 1st and 3rd Wednesdays.
New Times 7 to 10 PM.
Ask friends to join you every 1st and 3rd Wednesday evening of each month. All that is required is an open mind to ideas "beyond major media." Documentaries shown at Visionary Videos expand our knowledge of unknown realities. These astounding ideas often reveal hidden truths that inspire change.
We are the Ones we are waiting for. – Author unknown
We are the Love of God, no matter what.